Dr. Akshay Kamra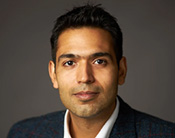 Akshay Kamra
Akshay is an orthopaedic surgeon, and his practice encompasses all aspects of paediatric and adult Hip and knee surgery. He also has expertise in general trauma and fracture care, having done sub speciality training in this. Akshay is part of Sydney Orthopaedic Specialists (SOS) and is also a co-founder of the Sydney Orthopaedic and Sports Injury Service (SOASIS)>.
Akshay moved to Sydney in his early teens from India where he had spent most of his childhood after having been born in the UK. He went to Trinity Grammar school in Summer Hill where he finished high school. Apart from excelling at academics, during his time at Trinity he was also appointed vice-captain and was involved in the Duke of Edinburgh program. After graduating from medicine from the University of New South Wales in 2009, he worked as a junior doctor at Bankstown/Campbelltown Hospitals. He was accepted into the Australian Orthopaedic Training scheme and was awarded the Fellowship of Royal College of Surgeons in January 2020. During his training he was mentored by surgeons such as Dr Stephen Ruff, Dr Andreas Loefler and Dr Michael Solomon, and his passion for lower limb reconstructive surgery grew.
Immediately post training Akshay was employed as a consultant orthopaedic surgeon at 2 tertiary hospitals – Prince of Wales Hospital and Sydney Children's Hospital. His work involved being responsible for both general trauma and sports & joint replacement elective surgery of the lower limb.
Akshay then went on to complete a fellowship in Trauma, Pelvic and lower limb arthroplasty and reconstructive surgery under the mentorship of Dr Robert Molnar and Dr Anthony Keeley. This is a prestigious local fellowship with both his supervisors regarded as world leaders in their field. This subspecialty fellowship involved him working at 2 level 1 trauma centres - St George and Westmead hospitals and completing elective surgery at Sutherland Hospital. Akshay feels comfortable and obtained skills in both primary and revision surgery of the hip and knee, cartilage, meniscal and ligament knee surgery and hip arthroscopy – for labral pathology and femoral acetabular impingement. He gained skills around the use of computer navigation and robotic surgery of both the Hip and Knee.
Akshay was then selected for a knee surgery fellowship at the world renowned Nuffield Orthopaedic Centre, which is part of the Oxford University hospitals in the UK. He moved to Oxford to complete this prestigious fellowship training with the esteemed department – which does the most number of revision knee surgery in the UK. During his time here, he gained skills around both primary and revision knee surgery, partial knee replacement, sports knee surgery and the management of bone and prosthetic joint infection. Having been born in the UK, it also gave him a chance to revisit and travel around the UK with his young family, an experience he will treasure for life.
Akshay has been involved with research throughout his medical career. He is passionate about evidence-based medicine and has presented at multiple local and international medical conferences. He has been involved with examining students from the University of New South Wales for the medical school examinations.
Outside of work, Akshay likes to spend time with his wife and young daughter. He is a fanatic fan of cricket, loves to be outdoors and exercise. He is a self-portrayed "masterchef" and appreciates good wine and whiskey. Other than English, he is fluent in Hindi and Punjabi.
Hospital Appointments and Consulting Locations
Prince of Wales Private Hospital, Randwick
Waratah Private Hospital, Hurstville
Strathfield Private Hospital, Strathfield
Public Hospitals
Prince of Wales Public Hospital, Randwick
For more information about Dr. Akshay Kamra, click here.