Dr. David Lunz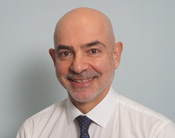 Dr. David Lunz
Dr. David Lunz specialises in disorders of the foot and ankle. He specialises in all aspects of adult foot and ankle reconstructive surgery including arthroscopic ankle surgery and ankle sports injuries.
He trained in orthopaedic surgery in Sydney where he obtained his FRACS and then did a 6-month fellowship in foot and ankle surgery at North Shore Private Hospital. Thereafter he completed a 12-month fellowship at the renowned Texas Medical Centre in Houston in foot and ankle surgery under Prof. Thomas O. Clanton.
Dr. Lunz consults in Miranda and Randwick and operates at St George Private Hospital and Prince of Wales Public and Private Hospitals.
A more detailed look at Dr. Lunz's foot and ankle information is found by clicking here: www.sosfai.com.au
All Appointments and Enquiries: Ph: (02) 9650 4835