Dr. Alan Dao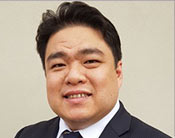 Dr. Alan Dao
Dr Alan Dao is an Orthopaedic surgeon in Sydney, Australia. He specialises in the treatment of upper limb conditions, sports injuries and general orthopaedic trauma.
Training:
Prior to being an Orthopaedic surgeon he trained and practiced as a physiotherapist and has a broad knowledge of rehabilitation and exercise therapy. He then studied Medicine at The University of Sydney and pursued specialist training in Orthopaedic surgery after graduating. He trained in multiple major Sydney hospitals including Liverpool, St George, Prince of Wales and Sydney Hand Hospitals. After being accepted as a Fellow of the Royal Australasian College of Surgeons and a Fellow of the Australian Orthopaedic Association he did further subspecialty training in shoulder and elbow surgery as well as local and international training in hand and wrist surgery.
Profile:
Dr Alan Dao is a very personable surgeon who takes pride in quality of care for all his patients. He adopts an evidence based approach to the investigation and management of his patient's conditions and uses modern and well proven surgical techniques and implants. He specialises in minimally invasive as well as open surgery to shoulder, elbow, wrist and hand conditions. He treats conditions ranging from sports injuries and trauma to arthritis and degenerative conditions. He also has a strong interest in research and teaching. He has published in multiple local and international peer-reviewed journals as well as presenting at multiple local and international conferences. He is involved in teaching and education of allied health, nursing, medical students, general practitioners and orthopaedic specialist trainees. Dr Alan Dao is fluent in English and Cantonese.
Places of Practice:
Dr Alan Dao has practices in Bankstown, Bella Vista and Randwick and has public appointments at Prince of Wales and Bankstown-Lidcombe Public Hospitals. He also operates privately at Prince of Wales Private Hospital and Strathfield Private Hospital.
Appointments and Enquiries Phone: (02) 8078 0633
For further information see www.dralandao.com.au